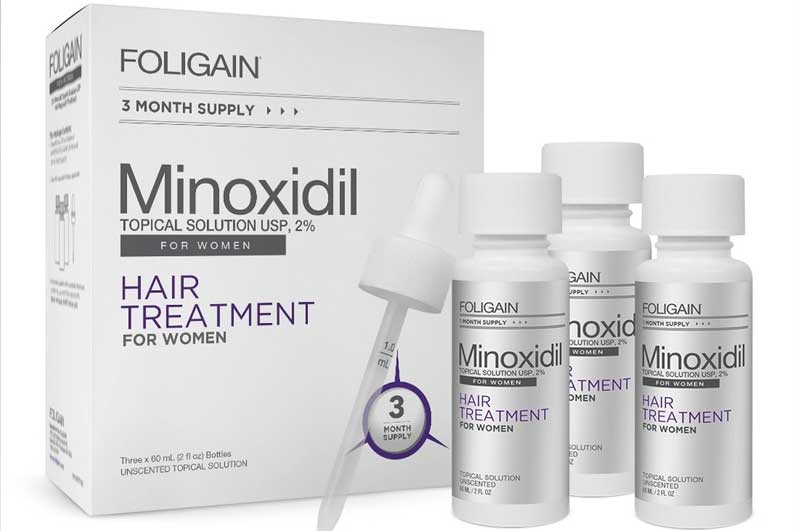 Originally Minoxidil (which is applied to the skin) was marketed in a tablet form for the treatment of high blood pressure. Unwanted hair growth was one of the side effects of this treatment. This side effect resulted in researchers producing a topical solution for treating hair loss. Topical Minoxidil (Rogaine™) has been shown to stimulate hair growth on the crowns of men's heads. In women, Rogaine™ can increase hair growth in the forehead area.
Minoxidil solution is used in the treatment of male pattern alopecia in men, and female pattern alopecia in women. It is occasionally useful for other forms of alopecia, including alopecia areata.
Minoxidil is in a class of drugs called hair growth stimulants. Trade names of minoxidil solution in New Zealand are Regaine™ and Headway™. It is available in 2% and a 5% solution.
Rogaine™ has to be applied on the scalp at least twice daily and for at least four months to see results. It doesn't work as well in older patients, people with larger areas of baldness, or people that have been bald for longer periods of time. Rogaine™ should be applied to a normal dry scalp only and left in place. It is for external use only and for use by men only. Apply 1ml with dropper or sprayer (6 sprays) 2 times a day directly onto the scalp in the hair loss area. Using it more often will not improve results. Do not apply on other parts of the body.
Minoxidil (Rogaine) normally induces new hair growth between 4 and 6 months of use. If it has not worked by 6 months it is probably not going to. It appears to begin slowing the hair loss process almost immediately but – there are no guarantees. You simply have to try it to see.
What special precautions should I follow?
Before using minoxidil, tell your doctor and/or pharmacist
if you are allergic to minoxidil or any other drugs.
what prescription and nonprescription medications you are taking, especially guanethidine (Ismelin), other medications for high blood pressure, and vitamins.
tell your doctor if you have or have ever had heart, kidney, liver, or scalp disease.
tell your doctor if you are pregnant, plan to become pregnant, or are breast-feeding. If you become pregnant while using minoxidil, call your doctor.
plan to avoid unnecessary or prolonged exposure to sunlight and to wear protective clothing, sunglasses, and sunscreen. Minoxidil may make your skin sensitive to sunlight.
What should I do if I forget a dose?
Skip the missed dose and continue your regular dosing schedule. Do not apply a double dose to make up for a missed one.
What are the side effects?
Although side effects from minoxidil are not common, they can occur. Tell your doctor if any of these symptoms are severe or do not go away:
scalp itching
dryness
scaling
Flaking
Irritation
burning
If you experience any of the following symptoms, call your doctor immediately:
weight gain
swelling of the face, ankles, hands, or stomach
difficulty breathing (especially when lying down)
rapid heartbeat
chest pain
lightheadedness